Bonded Fillings in Halifax - Dentist in Halifax
In the early days of dentistry, the only way to restore damaged or decayed teeth was through the use of metal fillings. While these fillings can effectively restore many issues that arise with your teeth, some patients find the metal fillings to be noticeable when doing tasks such as speaking or smiling. In addition to this, some people are also uncomfortable with the idea of having mercury or amalgam placed in their mouth.
Fortunately, there have been many advancements in dental technology and we now offer another option in the process of restoring decayed or damaged teeth:
tooth-coloured bonded fillings
. Unlike traditional metal fillings, bonded fillings do not contain mercury or amalgam materials.
Instead,
bonded fillings
are made of a composite resin that is tailored to match the natural colouration of your teeth. When the composite resin is bonded to the damaged tooth's structure, the bond strengthens the remaining structure of the tooth and helps protect it from further damage. The composite resin can also be tailored to the natural and unique shade of your teeth. Bonded fillings are a durable solution and can last for many years with proper care.
You may be wondering how
bonded fillings
are placed.
Using specialized tools, the
Halifax dentist
carefully removes the decayed portion of the tooth's structure. The resin is then applied to the tooth and moulded to replicate the surface of the tooth. A special UV light is used to create a permanent bond between the composite resin and the tooth. Any rough edges are smoothed by your
dentist in Halifax
and then the tooth is finally buffed to ensure the longevity of the treatment.
Bonded fillings can often be applied in a single appointment, so they require little tooth preparation beforehand. This method allows you to preserve more of your tooth's natural structure.
For more information about bonded fillings, contact Dr. Daniel Tam to be your
dentist in Halifax
for this procedure. You can also
set up an appointment
online. We offer direct billing and flexible appointments for your convenience.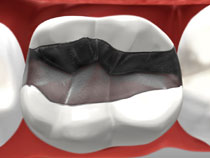 Last Updated On
2021-10-25