Full Mouth Restoration Halifax
Depending on the state of your mouth, you may require a number of restorative and cosmetic procedures to restore your oral health. As a result, you may need
full mouth restoration
. This procedure aims to rebuild, restore, and improve the function of your mouth while altering its appearance. Dr. Daniel Tam is able to perform a wide range of full mouth restorative treatments. Each person is unique, and their needs are as well. Depending on your individual oral health and dental needs, Dr Tam and his dental team will craft a personal treatment plan to assist you with your dental issues. This is done with the goal of restoring your mouth's oral function.
Full mouth restoration
may be appropriate for you if you experience any of the following problems: 
Missing teeth
Fractured teeth
Broken teeth
Worn down teeth
Decayed Teeth
Gum disease
Bite difficulties
Involuntary teeth grinding (bruxism)
However, there are many more issues that may benefit from our restorative treatments, so you will want to ask your dentist in Halifax if you have any pressing concerns.
The amount and specific type of restorative treatments you may need will depend on how complicated your oral health issues are. If you have multiple problems, your Halifax dentist may need to employ more treatments to restore your teeth and gums to proper health. Dr. Daniel Tam will choose the appropriate method to start the restorative process with you. Our
full mouth restoration
treatments include
bonded fillings
,
dental crowns
,
porcelain inlays and onlays
,
dental bridges
, 
root canal therapy
,
non-surgical gum therapy
,
invisalign invisible braces
, and
orthodontic treatment
. Please keep in mind that this list is not exhaustive and your dentist in Halifax can recommend other treatments depending on your specific needs.
Dr. Daniel Tam is committed to working with you to help restore your oral health.
Contact
our Halifax dental office today to learn more about full mouth restoration, or
book an appointment
online.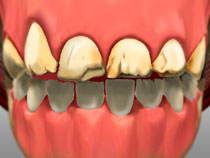 Last Updated On
2021-10-25